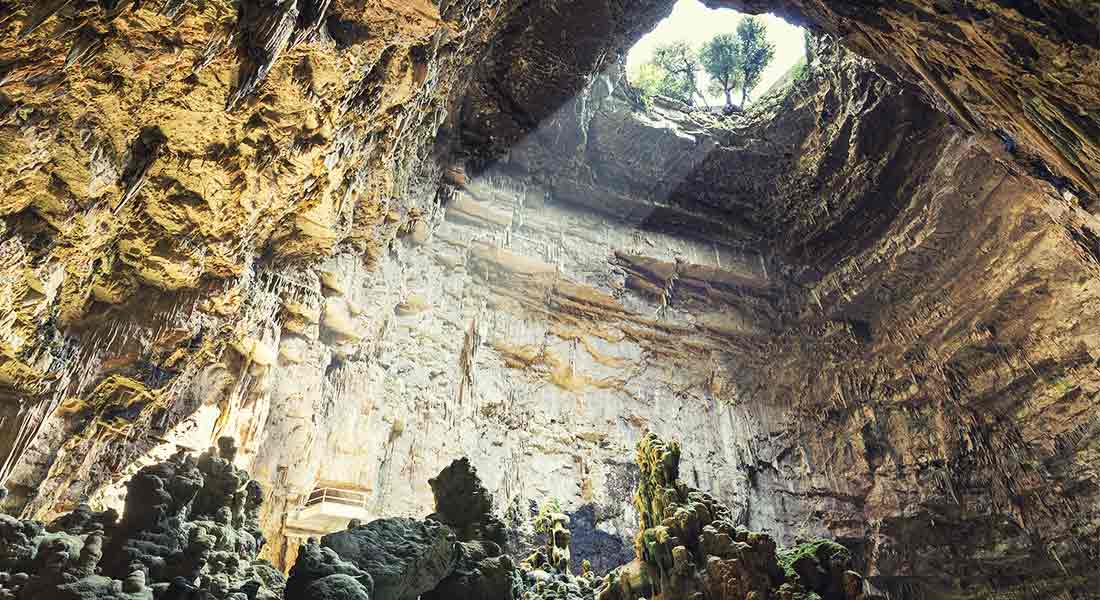 Alberobello and Grotte di Castellana
Alberobello is 70 Km from Molfetta, in the heart of the "Murgia dei Trulli".
Alberobello
With its characteristic old city centre that is part of the World Heritage Site of Humanity. The name "Trullo" comes from the ancient greek "τρούλος", or "dome", and indicates the ancient dry stone conic structures of prehistoric origin.
The stone used for the construction comes from the limestone rocks of the Murgia Highlands. Alberobello is undoubtedly the capital of Trulli: the old centre is entirely made up of these pyramid-shaped buildings which make it unique in the world. Alberobello is an alleyways labyrinth, with more than 1000 trulli, among which the Rione Monti, the oldest in the city and the Rione Aia Piccola, where there is Casa Pezzolla, a system of 15 trulli all linked each other, used today as a Museum of the Territory, and Trullo Sovrano, that houses performances and concerts.
Grotte di Castellana
Considered the most important speleological system in Italy and Europe, the Castellana Caves are particularly appreciated for the richness of its crystalline concretes, the remarkable extension and the spectacular hugeness of the natural galleries. Located about 40 km from Bari, they represent the result of the erosive action of an ancient underground river that dug and shaped for centuries the limestone rock.
It was in 1938 that the speleologist Franco Anelli discovered the precious site, about 3 km of subterranean roads, articulated in two paths that reveal wonderful scenarios. Among colossal stalagmites and stalactites and large caves adorned with games of shapes and colors, you can admire the White Cave, the Cave of the Altar, the Cave of the Dome and the Passage of the Crib, where there is a stalagmite called "Madonnina delle Grotte" because it reminds of the Holy Virgin.