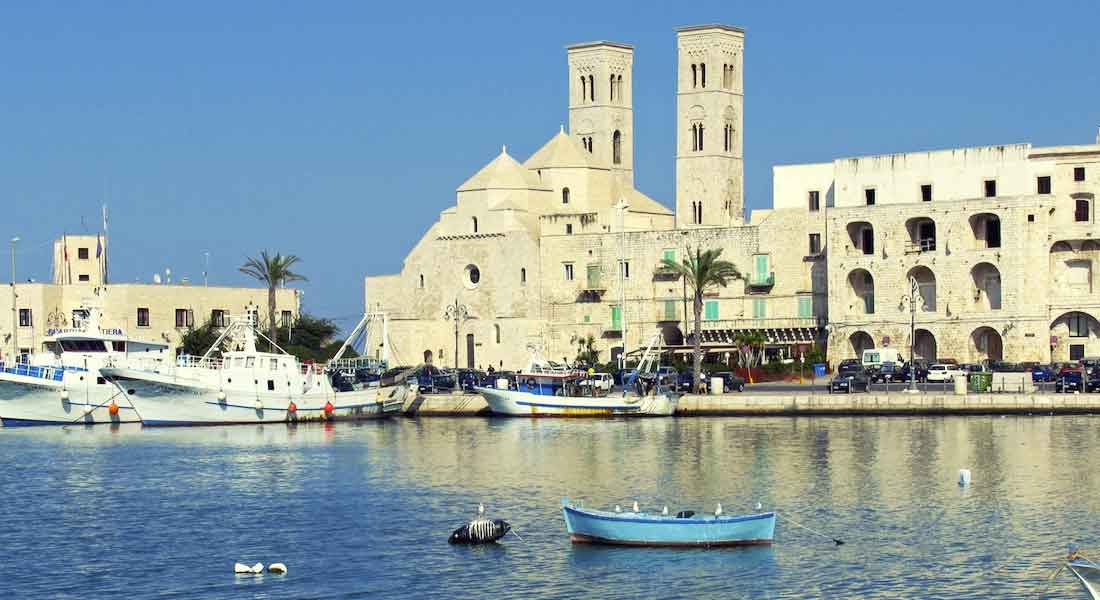 Molfetta
About 20 Km from Bari, Molfetta is one of the most important fishing centers in the region.
The Romanesque Duomo, jewel of the old town, dominates the ancient center of the city, famous for its "fish hook" alleys. The Church is equipped with two towers, to which are added the Torrione Passari, part of the ancient wall, the Church of Sant'Andrea and the Diocesan Museum. Outside the walls of the old town stands the Cathedral of the Assumption, which houses the spoils of San Corrado, patron saint of the city.
A walk to Molfetta also includes the rich collection of contemporary art in the Palazzo Comunale, with numerous works of famous artists such as Renato Guttuso, and a visit to the Basilica Sanctuary of the Madonna dei Martiri, just out of town. Echoes of a millennial history survive in the famous "Pulo" of Molfetta, the impressive 170 cm deep and deep 30 karst depression, which preserves the irony of a Neolithic settlement. From this area come the fragments of "Molfetta" steamer, found throughout the whole Mediterranean Sea.
The main events of Molfetta mainly revolve around the liturgical calendar, particularly to the Easter traditions, due to the great devotion of the inhabitants. Lent is an opportunity very rich of moments of celebration, when the most important churches in the city become those of Santo Stefano and that of Purgatory.
During Fridays of the Lent, in the Church of St. Stefano they contemplate the mysteries of the pain, while in that of Purgatory, on Sundays, there is the Pious Exercise in honor of the "Pietà".
During the Holy Week there is the worship of these celebrations with three different processions, accompanied by funeral marches composed in the centuries by the greatest musicians and also by famous international authors. The other great date of the year, in addition to the Holy Week, is linked to the celebration of the Virgin of martyrs. She is the protector of the sailors and is honored with the tradition of the festival at sea, three days of the first decade of September (7, 8, 9), together with the fair of Molfetta. The Statue of the Virgin is arranged on boats in the harbor, and the event culminates with a splendid fireworks show. This fair is also very popular for the tourists who are still in Molfetta for summer holidays in September.